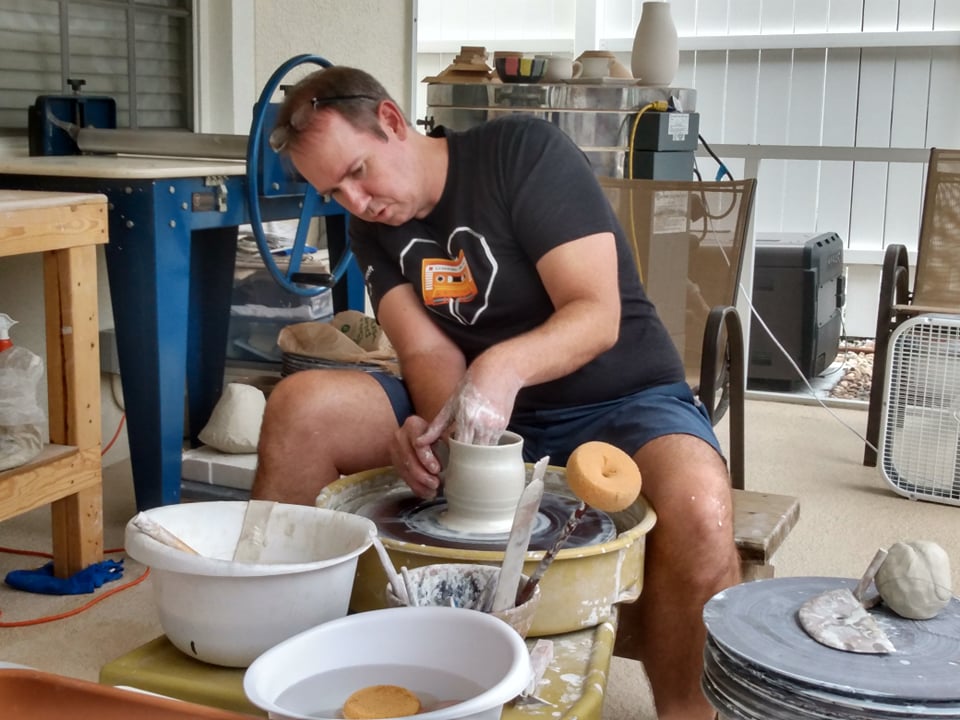 How can I learn about ceramics?
I take a different approach to lessons and coaching. The first thing I'll say is that you should probably sign up for classes with either The Artistic Hand in Oviedo or Crealde in Winter Park. Both places offer multi-week classes with qualified experienced instructors. Artistic Hand also offers one-time clay experiences that focus on helping you create a piece to take home.
I don't focus on making one beginner bowl while you're here. I want you to leave understanding the process and enthusiastic about starting a journey of exploration and creativity. The way I approach learning pottery is to schedule a two-hour, private one-on-one experience at my home studio. During that time I'll work with you to understand what throwing feels like. I'll demonstrate, then you'll try. I have two wheels, so you'll sit directly across from me with your own workplace.
It's likely that I'll be working on my own projects while you're here. I don't hover. That's a good fit for some people, but some people may feel like "Hey, that guy isn't paying attention to me." You're right, I'm not. I'm expecting that you'll be paying attention to yourself, learning to feel what the clay is doing, asking curious questions about your own work, and starting to understand the relationship between your body, the wheel, and the clay.
If you're an unusual learner, and you do produce a pot that you want to keep, I'll bisque, glaze, and glaze fire it for you for $20/piece. That's not to discourage you from keeping pieces, it's because there's a lot of steps between throwing a pot and having a finished glazed piece.
Two hour one-on-one workshop at my private studio: $120
90 minute two-on-one workshop for you and a friend: $120
Two hour two-on-one workshop for you and a friend: $150
Multiple two hour private lessons: Contact me to discuss
Other questions or ideas? Contact me